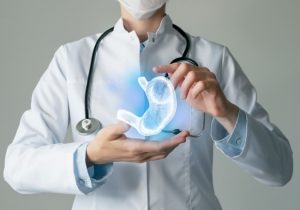 The introduction of robotic assistance in minimally invasive surgery has provided advantages that make its application to increasingly complex techniques possible.
its application to increasingly complex techniques.
Several bariatric surgery groups are incorporating robotic surgery. In this work we describe the technique applied and the results obtained.
Methods: We describe the methodology in the application of the Da Vinci robot to laparoscopic gastric bypass, which is the most frequently robot-assisted technique due to its complexity. Robotic assistance implies some differences with respect to the pure laparoscopic approach and facilitates manual performance of the gastrojejunal anastomosis.
Results: So far, the described results improve the feasibility of the laparoscopic approach in patients with very high BMI (super obese) and in the beginning of the learning curve. In addition, a lower incidence of postoperative gastrojejunal leaks is described.
Conclusions: Although experience is still scarce, robotic assistance has brought numerous advantages to the technique and results of laparoscopic gastric bypass.
Translated with www.DeepL.com/Translator (free version)